CRM-510LPB (Blind)
Home /
Radon /

CRM-510LPB
Resources: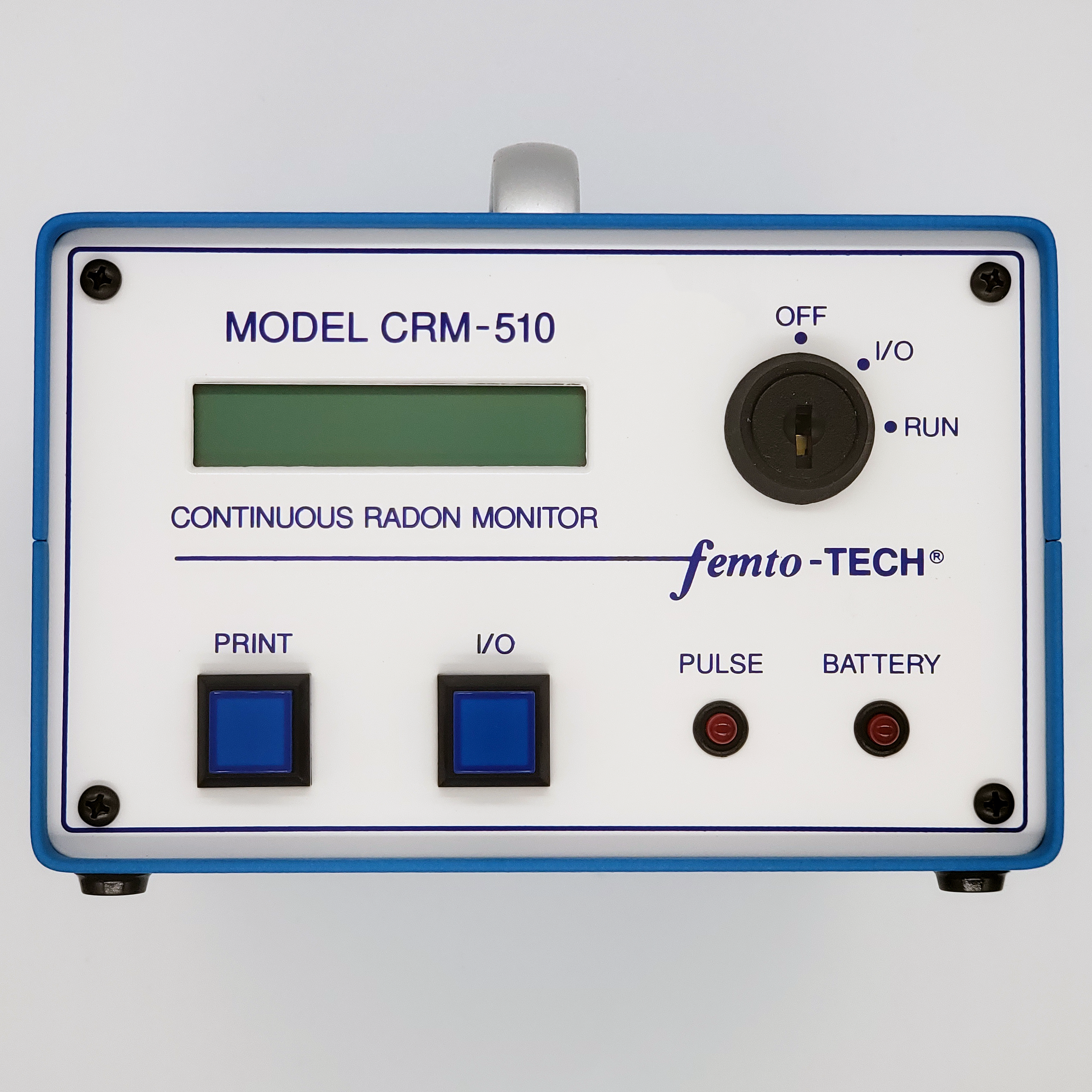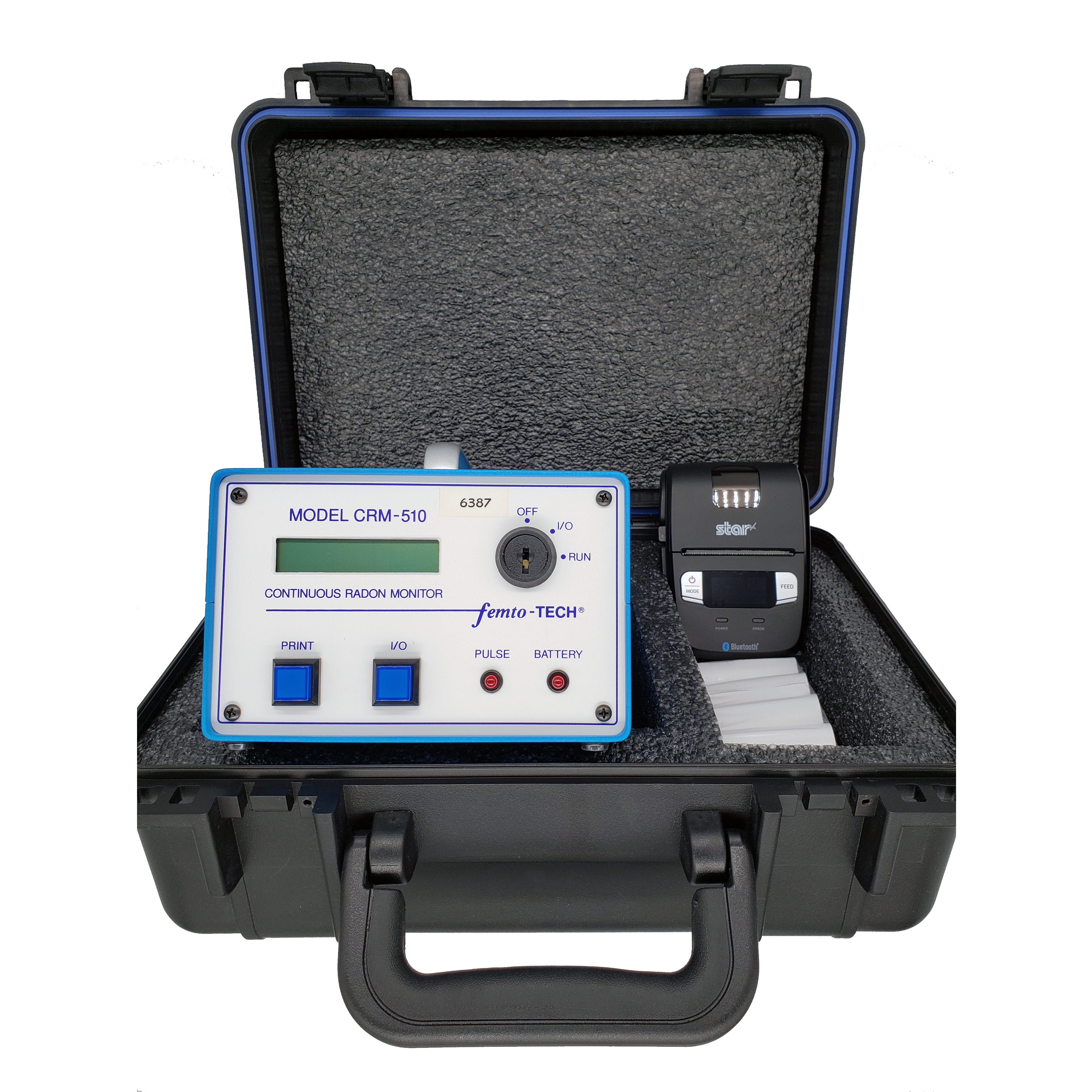 CRM-510LPB
Low Power Blind Continuous Radon Monitor
Specifications
Dynamic Range
1-200 pCi/l
Units
pCi/l or Bq/m³
Sensitivity
0.350 CPM per pCi/l
Linearity
1-200 pCi/l (<10%)
Temperature
Range 50-104 ºF
Barometric Pressure
Range 0-38 inHg
Relative Humidity
Range 0-90%
Sampling Mode
Passive Air Diffusion
Power
Batteries / 1-year
Data Storage
192 Hours (8 Days)
External Output
Serial RS-232C
AARST-NRPP Approved: BC-463
The femto-TECH, INC. model CRM-510LPB is a precision airborne alpha radiation detection instrument based on the same field proven pulsed ion chamber technology of previous models R210F and RS410F. Due to a unique patented electrometer and open grid probe design, the model CRM-510LPB is highly suited for a wide range of radon measurement applications. Because of the low current requirements of the electrometer detector and on-board computer, the model CRM-510LPB is truly a portable self-contained continuous radon monitor that can read and store test data for eight days of stand-alone operation. In this "passive" mode of operation the model CRM-510LPB is uniquely suited for screening and follow-up type testing.
The full function computer system incorporated in the model CRM-510LPB provides the operator with a highly flexible radon detection instrument and data logger operating system, while still maintaining the simplicity of operation for which femto-TECH instruments are noted. In addition to the measurement and storage of radon data, the highly sophisticated on-chip peripheral capabilities of the micro controller (MCU) used in the CRM-510LPB provide for the measurement and storage of temperature, barometric pressure, and relative humidity. This multidimensional data acquisition capability provides the tester with a unique data base for evaluating the validity of short term radon measurements.
Software & Results
Paired with our provided software or modem, the user can conduct a protocol test and then send the data directly to our partnered third-party laboratory, Air Chek. Our Blind Edition software is available for both Windows & Android operating systems. Click HERE or HERE to learn more about the software.
FACT
femto-TECH devices have been designed to meet the requirements of Professionals who need reliable measurements, but also need additional information to assist them in interpreting results.
Anti-Tamper Motion Detector
(Tilt)
With the integrated tilt sensor, you can tell if any movement or tampering has been detected on the hour of it's detection.
Real-Time Radon Measurements
Observe the radon average/rate on the LCD screen while the test is being performed!
Fully responsive
Cutting Edge Sensitivity
The CRM-510LPB outperfoms every solid-state device on the market. It's like comparing a microscope to a magnifying glass.
A physical key is required to run/manage the CRM-510LPB, meaning the test cannot be stopped or tampered with while you are away.
Units of Measurement
Your choice!
Select between US & EU standards of measurement for radon, temperature, and barometric pressure.
Remote Report Generation
Via 3rd-Party Certified Lab
The CRM-510LPB works with Air Chek's Blind CRM Program. Simply run a test, and then upload the data to Air Chek via supplied modem or our Blind Software.
Related items
613 Case
Case for the CRM-510 model line
Government Affiliates
United State of America
---
United States of America
---
United State of America
Our Contacts
25 Eagle Court,
Carlisle, OH 45005
Phone: (+937) 746-4427
Fax: (+937) 746-9134
Mon - Fri | 9am - 4pm EDT/EST