Resources: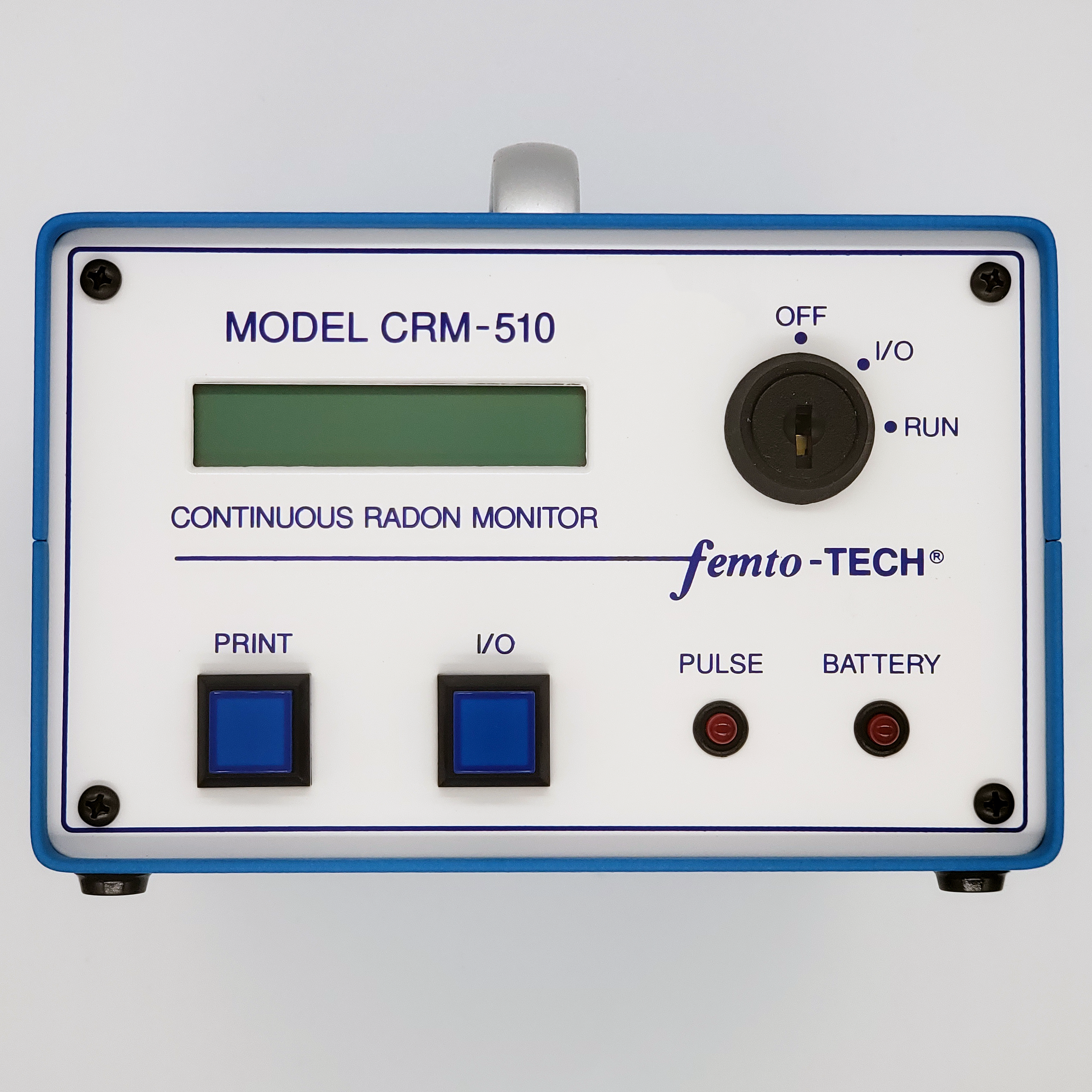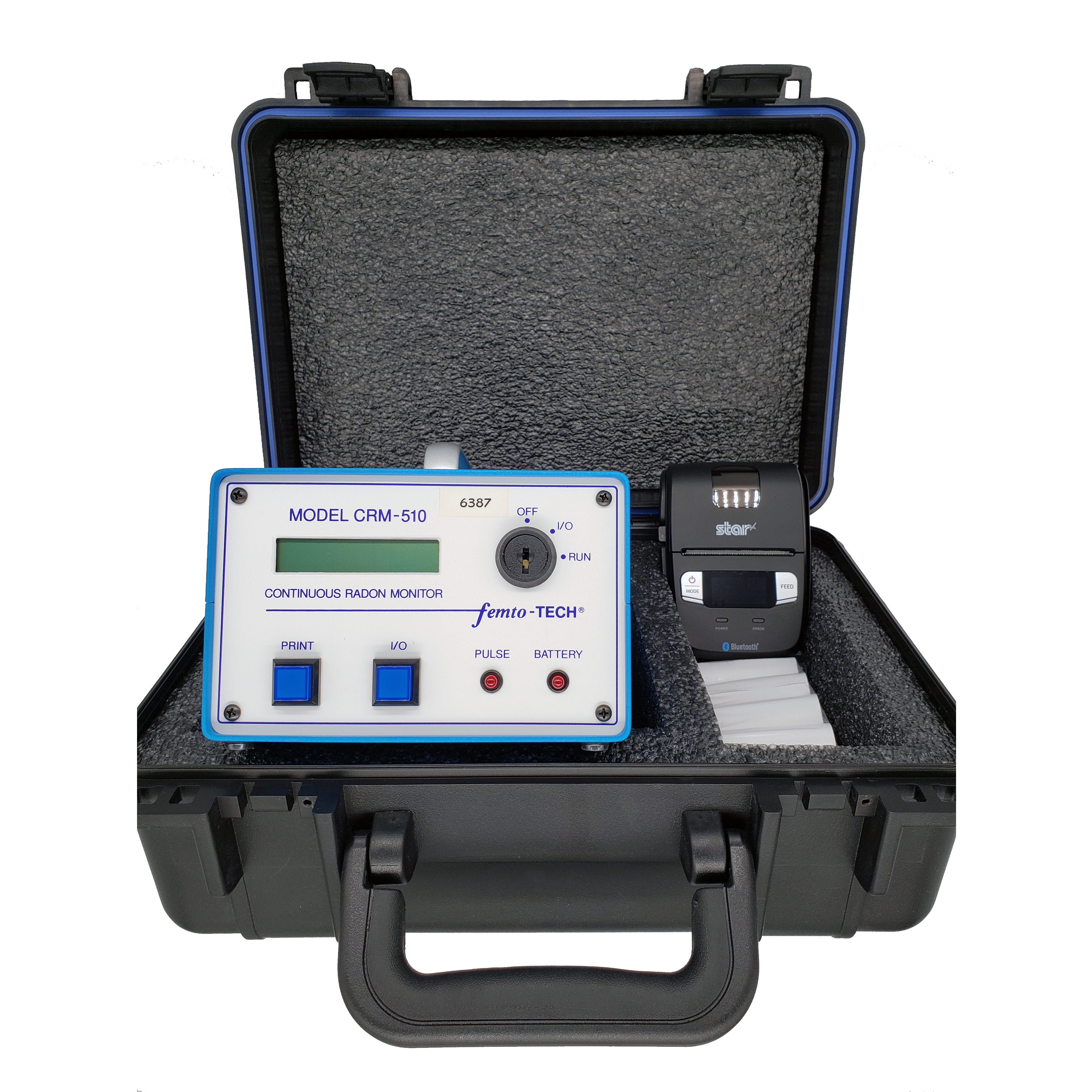 CRM-510LP
Low Power Continuous Radon Monitor
Specifications
Dynamic Range
1-200 pCi/l
Units
pCi/l or Bq/m³
Sensitivity
0.350 CPM per pCi/l
Linearity
1-200 pCi/l (<10%)
Temperature
Range 50-104 ºF
Barometric Pressure
Range 0-38 inHg
Relative Humidity
Range 0-90%
Sampling Mode
Passive Air Diffusion
Power
Batteries / 1-year
Data Storage
192 Hours (8 Days)
External Output
Serial RS-232C
AARST-NRPP Approved: CR-444
The femto-TECH, INC. model CRM-510LP is a precision airborne alpha radiation detection instrument based on the same field proven pulsed ion chamber technology of previous models R210F and RS410F. Due to a unique patented electrometer and open grid probe design, the model CRM-510LP is highly suited for a wide range of radon measurement applications. Because of the low current requirements of the electrometer detector and on-board computer, the model CRM-510LP is truly a portable self-contained continuous radon monitor that can read and store test data for eight days of stand-alone operation. In this "passive" mode of operation the model CRM-510LP is uniquely suited for screening and follow-up type testing.
The full function computer system incorporated in the model CRM-510LP provides the operator with a highly flexible radon detection instrument and data logger operating system, while still maintaining the simplicity of operation for which femto-TECH instruments are noted. In addition to the measurement and storage of radon data, the highly sophisticated on-chip peripheral capabilities of the micro controller (MCU) used in the CRM-510LP provide for the measurement and storage of temperature, barometric pressure, and relative humidity. This multidimensional data acquisition capability provides the tester with a unique data base for evaluating the validity of short term radon measurements.
Software & Results
Paired with our provided software or thermal printer, the user can conduct a protocol test and then generate the data directly to our partnered third-party laboratory, Air Chek. Our Blind Edition software is available for both Windows & Android operating systems. Click HERE or HERE to learn more about the software.
FACT
femto-TECH devices have been designed to meet the requirements of Professionals who need reliable measurements, but also need additional information to assist them in interpreting results.
Anti-Tamper Motion Detector
(Tilt)
With the integrated tilt sensor, you can tell if any movement or tampering has been detected on the hour of it's detection.
Real-Time Radon Measurements
Observe the radon average/rate on the LCD screen while the test is being performed!
Fully responsive
Cutting Edge Sensitivity
The CRM-510LP outperfoms every solid-state device on the market. It's like comparing a microscope to a magnifying glass.
A physical key is required to run/manage the CRM-510LP, meaning the test cannot be stopped or tampered with while you are away.
Units of Measurement
Your choice!
Select between US & EU standards of measurement for radon, temperature, and barometric pressure.
Thermal Printer Support
Both wired and bluetooth
Directly connect to select Seiko printers, or use our mobile app to print via bluetooth to Star Micronics or Epson thermal printers.
Modern Report Generation
Android/iOS/Windows
Use your preferred device platform to generate cohesive reports once your test is complete - at no added cost to you!
Add images to your report
Take a picture and add it to your report using our app, or simply add your choice of preexisting saved images.
Add signatures to your report
Use the mobile app to add a company & customer signature to your report.
Related items
613 Case
Case for the CRM-510 model line
Government Affiliates
United State of America
---
United States of America
---
United State of America
Our Contacts
25 Eagle Court,
Carlisle, OH 45005
Phone: (+937) 746-4427
Fax: (+937) 746-9134
Mon - Fri | 9am - 4pm EDT/EST